See on Scoop.it – B2B Sales & Marketing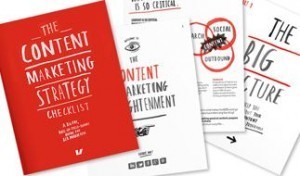 B2B Content Marketing is a hot new topic because businesses have realized that customers run away when they sense traditional marketing techniques which are trying to "sell them".
Instead of competing on the sheer quantity of interruptions, businesses are competing on the quality of their content.  A content strategy allows you to focus your company's expertise on helping customers solve their problems and needs. "Instead of just talking about yourself." In addition, great content allows you to get found, get shared and obtain leads.
Here are 10 tips for your content marketing checklist:
1 – Identify the business goals content can help you achieve and which metrics you will track
2 – Visualize the audience you are targeting based on demographics and psychographics
3 – Identify the content that incites your buyers to move from one stage to the next
4 – Map out the events (new products, mergers, growth) that trigger interest in your solutions
5 – Map out the sweet spot where your company expertise uniquely matches your customer needs
6 – Perform a content audit to identify gaps in the content you already have
7 – Map business themes to your sweet spot to prioritize focus
8 – Create a list of high-volume keywords for each theme for good search engine optimization
9 – Define your editorial calendar with content production by themes, personas, and stages
10 – Create great content
A B2B content marketing checklist (reg. required with immediate download) provides an overview of the key points listed above.
http://www.velocitypartners.co.uk/papers/b2b-content-marketing-strategy-checklist/
See on www.business2community.com