See on Scoop.it – B2B Sales & Marketing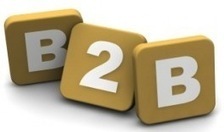 "People often think that business-to-business (B2B) marketing is cut-and-dried while business-to-consumer (B2C) marketing is a fundamentally personal and emotional experience."
"The truth is that we're emotional people regardless of whether we're buying at work or for ourselves, it's just that the emotions are different."
The article discusses current research by Enquiro indicating in business decisions, people perceive there is disproportionately more to lose by making the wrong decision vs. the potential gain of making the right decision. Thus, buyers look for signals that they're making the right choice.
The 5 ways presented to help the buyer minimize risks while helping them navigate content to assist in the buying cycle are:
1. Ask for Less
2. Incentivize Them
3. Make It Fun
4. Flaunt Your Credentials
5. Show Proof It Works
Read on for ideas of how to Reduce Risk and Increase Conversions in all 5 of the areas listed.
See on searchenginewatch.com