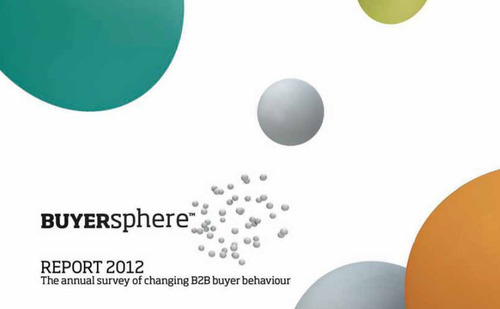 "The annual Buyersphere report … consists of interviews with B2B buyers who have made actual business purchases in the last 12 months. By asking detailed questions about the actual journey the buyers went through, the report gives what it calls "concrete, reliable findings …(Note: The report surveys buyers in the UK, France, Germany, and Italy so is obviously focused on European buyers, but I believe the insights below are relevant to all markets.) – Jon Miller/Marketo"
Full report: http://bit.ly/buyersphere12
In the article Jon discusses 4 points he noted in the data and one of his observations is:
"… what buyers really trust are the recommendations and referrals from their peers and friends. This means the real promise of the social isn't just about responding to comments and updating your feed. It's about facilitating peer-to-peer recommendations on your behalf and turning your customers and fans into an army of powerful advocates."
1 – "Word of Mouth" and "Web Searches" are both the most frequently used AND the most useful sources of information, while LinkedIn, Facebook, and Twitter were the least commonly used and the least useful source of information.
2 – Twenty-something buyers are twice as likely to use social media somewhere in the buying process (49%) than 31-40 year olds, and almost 4 times as likely than those aged 51+. The report highlights the big impact this will have in upcoming years.
3 – Responders said that "word of mouth" (WOM) is the most useful source of information, and it is used at every stage of the buying cycle.
4 – When social networks are used in the buying process, they are most commonly used in the last stage of final buyer selection.
As social media B2B marketing continues to evolve, think about your buyers journey and how they are, or will be, using social media during their buy-sell cycle.
See on blog.marketo.com